Sex is an essential part of the human experience and plays a crucial role in life. In addition to the pleasure it provides, sex fulfils several important functions that contribute to our overall well-being. When we are thirsty, we seek satisfaction through water. Similarly, our bodies experience satiation after a good sexual intercourse. Sexual activity has numerous fantastic benefits.
In addition, researchers at Wilkes University in Pennsylvania found that students who had sex once or twice a week had higher antibody levels than other students. So, it is quite important to have sex to keep your body healthy.
Benefits and importance of sex
Sex is not only producing child, but also about forming relationships and improving physical and emotional well-being and many more. Let us look at some of the benefits of sex:
1. Physiological benefits
It has been proven that sexual engagement can improve your physiological well-being. Endorphins, dopamine, and oxytocin are chemicals associated with pleasure, satisfaction and connection that are released during sex. These substances help relieve stress, elevate mood, and promote a sense of relaxation and contentment.
In addition, regular sexual activity is associated with better cardiovascular health. It improves blood circulation, lowers blood pressure, and strengthens the immune system. Orgasms also relieve muscle tension, which leads to better sleep and less physical discomfort.
2. Physical benefits
According to current studies, it has shown that sexual activity is associated with physical exertion to increase fitness and health stability. The heart rate is increased, and various muscle groups are exercised while doping intercourse.
Regular sex can help burn calories (approximately 5 calories per one minute), tone muscles and improve flexibility. It also stimulates testosterone production, which can improve bone density and overall vitality.
Improved Sleep
It has been observed that people who do not get enough sleep at night or cannot sleep due to tension or anxiety can benefit from sexual activity. Sex releases oxytocin, also known as the love hormone, and endorphins, which calm the body and mind and lead to better quality sleep. It can help reduce insomnia and promote more restful sleep.
Boost Immune System
People who have sex at least twice a week have more immunoglobulin A (IgA) in their saliva than those who have sex once a week or less. Immunoglobulin A (IgA), one of the five primary immunoglobulins, is essential for mucosal homeostasis in the gastrointestinal, respiratory, and genitourinary tracts that plays an important function in disease prevention in the human body.
Reduce the Risk of Prostate Cancer
It was acknowledged that, men who have sex at least 21 times a month have a lower risk of developing prostate cancer. While it is not clear whether sex is the only factor that can reduce the risk of prostate cancer, other factors do play a role. However, remember that safe sex does not harm the human body. This impact is noteworthy because prostate cancer is the second greatest cause of cancer-related deaths in males.
Control the extra marital affairs
It is clearly established that regular sex controls the way men give looks to other women and the same is true for the case of women. This is one of the most important components of today's break-ups or extramarital affairs. After fantastic sex, the human body remains calm and avoids being attracted to other things in terms of romance. Therefore, regular sex with your partner is an enormous advantage.
Emotional and Psychological Benefits
Emotional and psychological well-being are inextricably linked to sexual intimacy. It enhances the partner's sense of closeness, trust, and connection. Regular sexual activity can boost self-esteem and body confidence while reducing symptoms of anxiety and depression.
Orgasms cause the release of a cascade of neurotransmitters that contribute to feelings of arousal and relaxation. The emotional connection and oxytocin release during sex promote emotional intimacy and strengthen the emotional relationship between lovers.
Why sex is important in relationships?
1. Enhances intimacy and connection
In relations, intimacy is essential, and sexual activity is a vital method to create it. Between lovers, sex fosters emotional connection, vulnerability, and trust. Make a solid connection between two persons. Sex is important as it establishes a connection that is difficult to recreate using other ways of communication.
2. Communication and expression of love
Sexual activity enables partners to express their love and desire for one another physically. They care for each other and celebrate together. It is a non-verbal method of expressing feelings, wants, and wishes. Sharing intimate details can strengthen the emotional bond between the partners and establish a safe place for inquiries and understanding.
3. Relationship satisfaction and stress reduction
After a long, stressful day, sex can help partners relax and alleviate tension. It gives a place of relaxation, enjoyment, and shelter from all troubles, even if only for a short period. Regular sexual engagement is related with better feelings, less conflicts, and greater relationship satisfaction than other activities such as giving gifts, shopping, and so on.
4. Hormonal balance
Sexual activity affects hormonal balance in both men and women. Regular sex can help regulate hormone levels, such as testosterone and oestrogen, which are important for sexual health and overall vitality. Hormone balance can lift mood, increase energy, and improve overall health and well-being.
How to increase sex in your relationship?
If you want to improve intimacy and sexual satisfaction in your relationship, consider the following tips: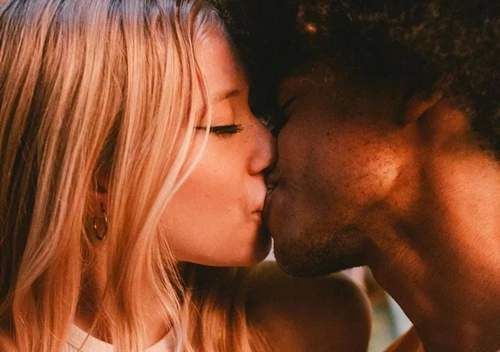 Open communication
Discuss your desires, fantasies, and concerns with your partner freely and honestly. Everything from what you desire from your partners to what you can give must be shared to create trust and understanding. It is critical to communicate effectively about sexual preferences, boundaries, and requirements.
Prioritise quality time
The most effective way to develop intimacy and bonding between two people is to provide opportunities for them to spend time together without distractions, such as arranging a candlelight dinner or date night, a weekend break away from the city, or simply spending time together without interruption.
Explore New Ideas
It is natural for people to become bored with doing the same thing repeatedly. So, to add variety and uniqueness to your sexual routine, try different sex positions, experiment with role-playing, use sex toys, different types of condoms or play hide and seek to spice things up.
Foster an Emotional Connection
Every time, the sexual route is not the best approach to connect with your partner. Engage in activities that foster trust, communication, and understanding between you and your partner, such as deep conversation, active listening, expressing appreciation for each other's efforts, playing a game, cooking favourite food, and so on.
Prioritize Self-Care
It is important to take care of yourself physically as well as mentally. For your sex life to be more fulfilling, it is essential that you get regular exercise, eat a healthy diet, manage your stress levels, and address any underlying health issues that might be affecting your health.
Keep it Slow
Partners should slow their breath down during sensual intercourse as it can have a surprising impact on their sex life. This will help both experience deep touch and closeness. Try intimate lubes to sense a smoother and more passionate connection between the two of you!
What about men or women who don't have partners?
"Sex alone through masturbation does not stimulate the release of oxytocin or other mood-boosting hormones as much as sex in a romantic relationship," says Dr Cirino. This means fewer benefits for self-esteem and depression, and at the same time, masturbation does not provide the proper satisfaction that healthy sex with a partner does. "But women without partners can still enjoy physiological benefits such as pain relief, better sleep and lower blood pressure," she says.
Consequently, it is important to keep in mind that sex is not only a source of pleasure but is also an important aspect of one's overall well-being and the development of healthy relationships if it is done in the right way. There are several physiological and physical benefits associated with sexual activity, as well as emotional benefits and stress reduction that can never be overstated. It is essential for individuals to prioritise open communication, emotional intimacy, and new experiences to improve their sexual happiness and create a meaningful and dynamic relationship with their partners.